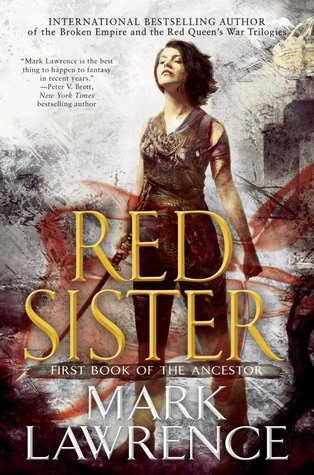 3.5/5 stars
I'd definitely classify this as dark fantasy. It starts off with the hanging of a child, the capturing and selling of children, and eventually children being sold for ring-fighting. So it's not a book for those who hate stories about cruelty toward kids. Despite this, it's a compelling story. Nona is an intriguing main character, with her story coming out in bits and pieces. I generally prefer stories that have more of a deep POV, where the reader knows everything the character does, so the fact that it's a bit distant took some getting used to. Not a bad thing, but for readers who prefer deep POV, stick with it, because it's worth it.
As mentioned above, Nona is captured and sold and eventually rescued by Abbess Glass (a fantastically-well done side character) who brings her to a convent to be trained as a warrior. It's here were Nona learns more about her power and what it entails. I gotta be honest, there were parts of this that were a bit boring, and more than a few scenes that I feel were unnecessary and dragged the narrative a bit. I think what Lawrence was trying to do was let us get to know Nona in more of a normal-type of setting, having inane thoughts and every-day type of experiences. But I feel like there was too much of this. But that's my preference. I don't mind slow-building stories, but these scenes didn't feel important to the plot. But I digress, because there were spurts of genius amid the drudgery.
When the action hits, it HITS, and you go from zero to a thousand miles an hour with barely a blink. The action was so well-written you feel like you are there, experiencing it with Nona as she does (and taking you into that deep POV I enjoy so much).
One interesting thing to note, and that I think Lawrence does very well, is that the word "said" is often left out of the narrative. It gives the story a very distinct feel, with more of a clipped writing style that I don't think I've ever read before. I wonder what the author's editor thought of that LOL. But it's unique, and done quite well.
The worldbuilding is phenomenal. The magic system is unique, although I wish we had a better understanding of how it works, but with fantasy, this is par for the course. I'm assuming this comes out more in the following books. And the fact that Nona's "knives" are like Wolverine from X-men was slightly annoying, but didn't spoil the story for me.
All in all, this is compelling enough for me to want to keep reading. I really like Nona, and the worldbuilding, and the unique writing-style. I"ll be grabbing book two in the near-future.